When we began our paper chase what seems like years ago, I started sewing. Without that and the generosity of a few people Rachel wouldn't have made it home to us.
I realize that giving back is huge!! I mean I have always supported others in their fundraising efforts but seriously one order can really make a difference!!
If you have the time and some extra money...(mind you most of these families are not charging a lot and it all goes towards their adoption) please check out their fundraising sites.
I have ordered a few things and they are so very nice. I just don't seem to have the time to sew anymore. And again, all the proceeds go towards bringing these children home to their families.
In no particular order here are a few of my favorites.
Kelley at
Lollipop Embroidery
has some adorable shirts and even skirts available!! This is Hope's pictured above. Isn't it the cutest!!
Holly over at
Beading our way to China
is having an auction to help bring their daughter home. She leaves in 2 mths.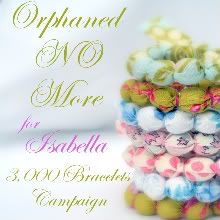 My girls have several of
Daleea's
bracelets and love them!! She and robin and Kelley will even coordniate fabrics for you!!

I ordered the girls outfits from Robin at Red Thread Stitches and can not wait to get them!! Since i have no time for sewing anymore and what better way to spend a little money than by helping to bring their sweet Liliana home!!

There is also Sharon at Sew Shay. She is making a ton of things to help bring their daughter home. I have a camera strap made by her and also won an outfit in her auction. Hope loves it!!



And last is
Lori
over at Joy Unspeakable is getting ready to unveil a new fundraiser to help with their new adoption!!
These are just a few, there are literally hundreds of families trying to raise funds to bring their children home. Please consider helping them out.