What could be better than supporting another who is trying so hard to get their child home?
Each week I will feature one family trying to bring their child home.
This week it's for Kaleb. He is the sweetest little guy ever and I have to say I love his name. We have a Caleb ourselves.
So here it is, check out all the amazing prizes that have been donated for this Giveaway!!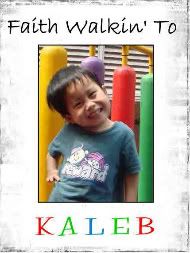 You can even get entries simply for spreading the word on your blog or facebook. But, really it's the holiday season, can you simply forgoe one St*rbucks drink this week and donate to a worthy cause, because what is more important than having a forever family?